Maybe related to this thread, maybe not: Support for older Olympus raw files E-500
Reviewing old archives and I have but no longer use an older Olympus camera. I'd like to try processing some of the files in PL to get certain effects, and can certainly do so with the JPG, but it's a shame that files from older bodies are not usable even generically by the software.
I thought maybe I had changed something by accident with exiftool that left the files unusable, so I went to an older backup and still no go. Using exiftool generic output I can read the exif data fine, but can't even preview the files in PL6.
PA100547.orf (14.5 MB)
report.txt (6.1 KB)
I am not particularly looking to process this specific photo, I just randomly selected one. I saw on a forum somewhere where someone used exiftool to "lie" to PhotoRaw by replacing the embedded camera model with a supported model. In some cases, at least, if PL (4 in one discussion but probably same applies here) had seen the file already then changing the model to a supported camera didn't work but if they changed the name of the photo then it would read it and accept it.
This all seems very cumbersome. I know the Olympus SP565-UZ is obsolete, but I don't think I should have to go to some 3rd party utility to process the raw file to a format that PL will read? That's crazy talk. But I guess I could try converting the thousands of ORF files I have to DNG with it and see if it helps - but if the problem is the camera model (old or new) is not supported by PL, then would it not still fail?
(Just downloaded DNG converter because why not).
Okay, just converted a folder full of the orf files to dng, and at least the thumbnails now work, and no warnings about corrupted or missing exif data. But still no edits here.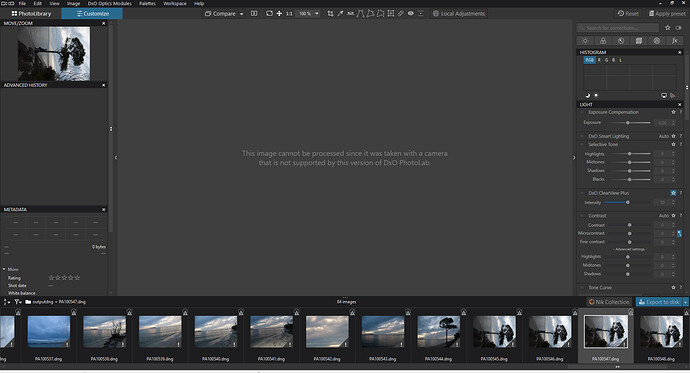 Oh well. I've typed this out I guess I'll post it. I don't think there are probably good answers here. You can't support every digital camera that ever existed, I guess, and you (apparently) can't just wing it to get the basic editing done either. So here's a use case that heads toward another solution for processing. I wanted to apply some of the presets I like in Photolab to some of these older files. And of course I can do so, I just have to process the RAW files elsewhere and then work on the JPG files. It's just disappointing.