A long time ago now, when DxO first started to build its DAM for PL, I pointed out a major failing in the metadata search mechanism - the lack of being able to OR criteria.
This becomes apparent when I create three hierarchies…
Fruit|Orange|Satsuma
Couleur|Orange
Entreprise|Télécommunications|Orange

And then I mark three different images with one of each of those hierarchies.
Now, I want to create an imaginary magazine article on the theme of the word Orange and use images from my library to illustrate its use, no matter what the context.
I go to the search field and start to enter Orange…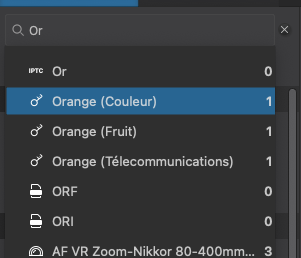 I am offered the choice of Orange in three hierarchical contexts but there is no way to choose just the keyword Orange on its own or to cover all three possibilities. So, I come to the conclusion that I am going to have to add all three hierarchies.
But I am defeated as the list shows that the other two hierarchies are either not referenced anywhere or, as it turns out, I am prohibited from ORing the other two hierarchies.
In fact, it turns out that ORing any predicate with any other predicate is not allowed, unless it is with a predicate from another category such as focal length, aperture, etc.
Within any category, the only option for combining predicates is to AND them. Now, it might seem logical to prohibit ORing where there is only one possibility per category, but it is downright useless where we need to search for more than one keyword.
And it doesn't just affect my "test" hierarchies. It also bars me from searching for combinations of non-hierarchical keywords like Nature Morte and Fruit
@Cecile-C can you flag this please?