In winter, I had accidentally set the exposure compensation incorrectly when taking pictures with snow. Instead of +EV to -EV. The display of these shots in DxO PL was strange. Now I made an exposure series of the same subject from -3EV to +3EV in steps of 1EV.
Representation FRV.
In PL set the preset "5-No correction" and opened the directory with the photos. The representation is as expected.
Now apply the "1-DxO Standard" preset to all the photos. The exposure correction is turned off. The display is as expected.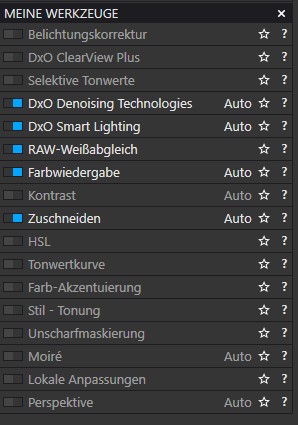 Next, switch on exposure compensation for all photos with correction "Center-weighted Integral". The exposure correction of the photos is exactly opposite to the original exposure. The exposure is corrected with
+3, +2, +1, 0, -1, -2, -3.
If now the exposure is manually set to 50% of the original values. (+1.5, +1, +0.5, 0, -0.5, -1, -1.5) the exposure correction of the photos is OK.
Is this a bug or do I have a mistake in thinking?
Translated with DeepL Translate: The world's most accurate translator (free version)