installed v7 and remade my workspace of v6 and the personal palettes plus there initial settings.( aka the initial loading preset.)
my old preset of v6:

The after install preset style natural is this:
funny enough on my first looks it looked better then my initial startingpoint but after awile i noticed a "trick"
they mask the Highlight handling, turn up midtone section and use Smartlighting for lifting shadows/compressing highlight.
sharpening with some base contrast.
So this means the rawfile is altered to give a reasonable outcome.
But what i want is a twostep starting point:
step one:
some vibrance 18 points to match the oocjpeg a bit. (otherwise it looks too flat)
dxo camera related rendering ( sould be the most close to sensors => panasonic looks)
all automated corrections for lens distortion an color protection active (this shows me imidiately if something is out of gamut ( WGS so unlikely

)
step two;
the preloaded options for fast corrections to make by only turning on the tool and off if it's not to satisfaction.
i think that i am after awile using v7 some of the settings in my workspace and initial preset could change but for now the v6 2023 preset in WGS mode would work fine.
as remark about my colormanagment palette v7:

option one:
extra advanged open close which holds the colorwheel. ( save some space by shifting the wheel up against the dots) which means by opening HSL only the four sliders are visible until you click on +advanged settings + then the wheel is unfolding.
( this would be my favorite option.)
create one extra on/off and unfold switch. so i can see difference of my global vibrance/saturation and my HSL wheel colorcorrections of the other dots.
and if possible position the "white dot" next to the global settings: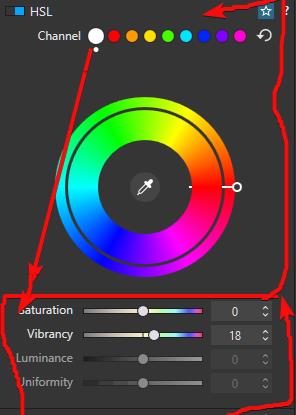 So this would be the default view of HSL with +advanged settings+ just at the bottom.