Hello all,
I have encountered a strange bug three times thus far, but unfortunately I was not able to replicate it.
The first time I had to re-edit a few photos due to this issue, and the second time it happened I also had to re-edit quite a lot of photos. As this was very frustrating, I set up a windows backup of the folder, so I could recover previous file versions.
So here is what happened last night - luckily this time PL was still open, when I noticed the issue again and I could still revert the unwanted changes:
After completing edits of my favorite photos of the shoot, I selected the final edits and went ahead to export them as jpg, with downscaling enabled. The export completed without any issues - the output looked fine. I went back to the PhotoLibrary to export them a second time - this time with watermarking enabled, as I forgot to check this option. (i am not sure if watermarking has anything to do with this issue).
The export looked fine, but when I came back to PL I found that local adjustments and some selective tone settings were different. Strikingly, the local adjustments were replaced by those of a different photo: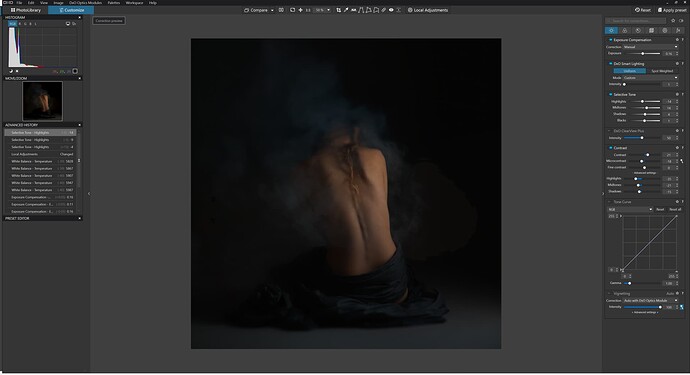 Notice the difference in exposure, the blur at the top and bottom as well as the lighter area to the right of the image.
For comparison, here is the way it was intended to look: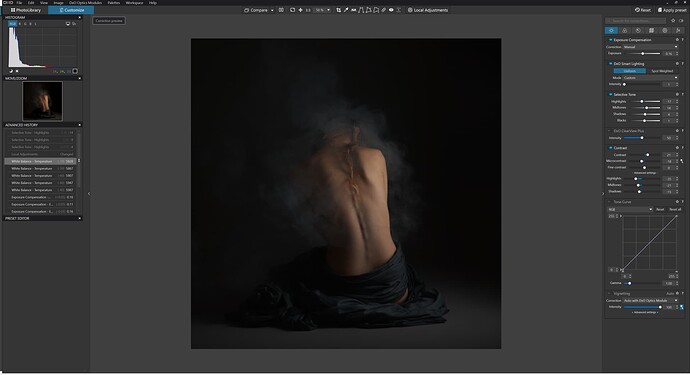 It always happened after export, so I am quite certain, that it is the trigger for this issue. Finally, this time I could revert the unwanted changes to the local adjustment in advanced history.
This has happened for me twice in PL5 (two different versions, not sure of the exact version numbers) running Win10 64bit and this time in PL6.5.0 Build 171 now running Win11 64bit.
Has anyone encountered something like this before? Is there a workaround or dose anyone know how to avoid this issue?
Thanks for reading,
Gelo